Facebook Marketing Services
Social media presence plays a vital role in promoting the business these days, as it acts as a word of mouth.
The higher the number of followers and likes the greater the presence. Facebook is one of the highly used social media sites across the globe, and it has users of every age. Having a Facebook presence is very crucial for every organization, as it gives a chance to widen up your customer base and also so keeps your current customers updated regarding your new campaigns.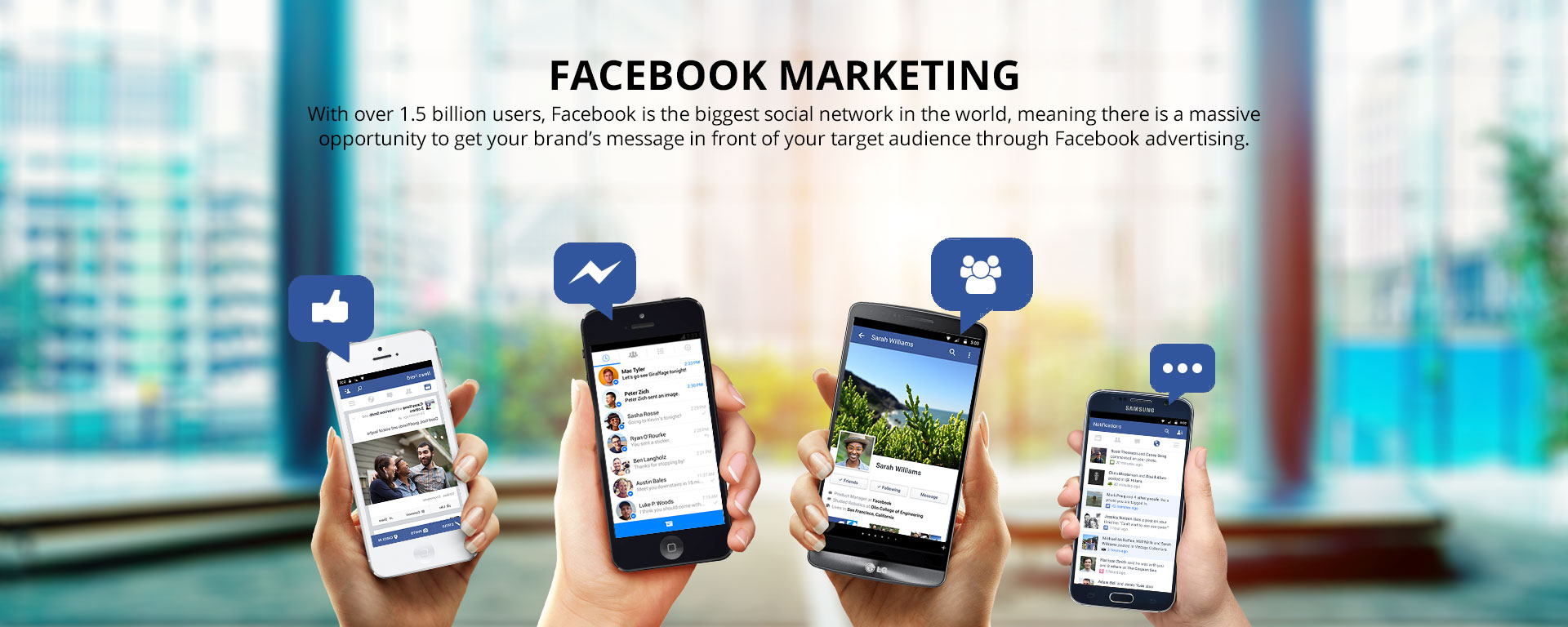 Facebook Marketing Services In Mumbai, Facebook Promotion Services In Mumbai
We are the leading provider of Facebook Marketing Services In Mumbai because we are helping business organizations to grow through social media.
Methods We Use For Facebook Marketing
Facebook Business Page: Facebook business page is one of the best ways through which an individual can promote themselves. It is not limited to the listing of the products, but also gives an option of sharing photos, videos, stories, and links. This page helps in developing your brand identity among the audiences. 
Facebook Advertising: These ads appear in the side column of Facebook these ads are known, as Classic ads, it includes headline with copy, image, and a click-through link. The links in these ads can either be of a Facebook page or some outer website.
Facebook Contest: The contest is a marketing strategy, which helps in increasing brand awareness and fans.     
Facebook Promoted Posts: It is a method provided by Facebook where the business can reach a certain client base by increasing the reach of specific posts. 
Sponsored Stories: Sponsored stories capitalize the word of mouth theory; it is a type of Facebook ad that shows the user about other interactions, likes, visits, etc. 
Facebook Exchange: It is a service in which Facebook provides re-targeting of ads in the real-time biddings.
Our Facebook Promotion Services In Mumbai, are highly applauded because we never fail to render the result-driven services. Choose our Facebook marketing service today, and promote your brand with ease. 
Types Of Facebook Ads
Video Ads
Photo Ads
Slideshow
Carousel 
Dynamic Product Ads
Lead Form Ads
The modern online buyer's journey includes awareness, consideration, purchase, and post-purchase experience. The Facebook ads can help the advertiser to reach the right audience at the right time. So, why wait? When you can advertise your product with us at the most used social media platform.